Product Description
In the Northern United States (Cape Cod) many anglers fish two of these Baby Bucktails above a large sinker - they call it a chicken rig.
In the Middle of the United States (New Jersey) we fish one of these 18" above the main lure a "teaser"
CM Tackle's very own Baby Bucktail Minnows. Constructed with top quality Mustad 5/0 hooks and a glow belly.
These are hand tied and will be shipping in Four (4) Colors to match our larger heads
We are casting these using only in Mustad hooks in 5/0 size at present. The Mustad brand has been good for us and these hooks will not open or break even on trophy size fish. We received letters and photos from anglers ranging from Sweden to South Carolina raving about the results. Its the larger hook folks, wanna catch bigger fish, use a bigger hook that simple.
We are the only maker offering the Black/Red pattern. This color was a special request from our dealer in Costa Rica who need something to resemble a mangrove crab. The snook and tarpon cannot leave this pattern alone! Similar results have been seen up North in Cape Cod with fluke over 10 pounds.
1) Pearl White
2) Green/White
3) Pink/White
4) Red/Black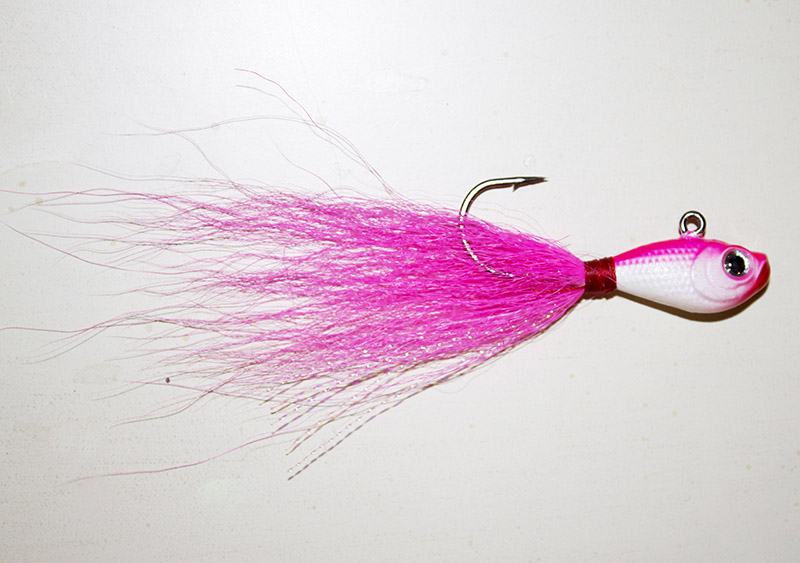 Product Videos
Custom Field
Product Reviews